Geoimagery Solutions
High-quality imagery solutions with fast turn-around, competitive pricing and outstanding customer service.
Ard Geographics is a leading provider of worldwide high-resolution satellite imagery (GeoEye-1, WorldView-1, QuickBird & IKONOS) and processing services such as DEM generation from stereo pairs, vector feature extraction, ortho rectification, pan-sharpening, tonal balancing, mosaic output and wavelet compression.
The markets we serve include mapping, GIS, national security/defense & other government applications, civil & environmental engineering, land surveying, wireless communications, rural/urban development, utilities, natural resources, conservation, aviation, vehicle tracking/fleet management / logistics and other uses requiring high-quality digital geographic data solutions.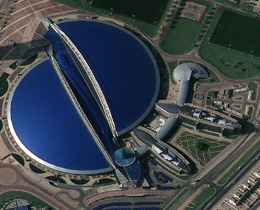 It's not only competitive pricing, but also faster delivery time, that makes satellite imagery an excellent alternative or complement to aerial photography for a number of projects.