GIS Data Collection
The cutting edge technology...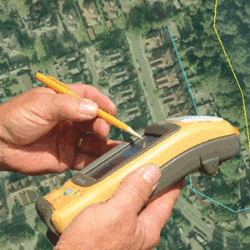 Ard Geographics is a regional leader in GIS data collection and verification techniques.
Ard Geographics has implemented ESRI mobile GIS and field mapping technology using Trimble handheld devices. This approach provides our field personnel with the ability to capture, analyze, and display geographic information, with more reliability and accuracy.
The technology helps us to integrate GPS, rangefinders, and digital cameras into GIS data collection.
The information for the required features classes in the field is entered using customized menus. This approach results in minimizing the human error, validation of the attribute data while entering, and maintaining a high pace of data collection in the field.